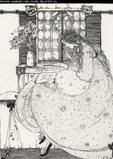 The desk top is covered with pens, the ink is in the cupboard, the journals rest here and there, a basket, a shelf, a bookcase, a bureau. It is time to enter another dream, another project, obsessively or not, but beyond this path.
The Waterman is traveling
to me
from Washington State, the Pelikan M215 is journeying away from me to New England, and when they arrive in Galilee,
the collection might well be complete.
The only travelers I foresee are those who must and will set off for other adventures.
And then, this
Pentamento
will be at rest.